A diverse group of missionaries, aged between 17 and 35, went on a mission trip to Surabaya and Malang, Indonesia from 1 to 7 September 2008. The group was united by one common goal: to increase the resident churches' knowledge of God and the Bible.
Multiple meetings were held throughout the trip, of which a noteworthy one was the service on the first night at Geraja Bethel Church in Dampit, a small town in Malang.
The atmosphere was electrifying: the Indonesian believers were actively engaged in worship, and fully tuned into the preaching from the pulpit.
Janelle Tan, who had the honor of sharing a message that night, reflected, "Watching the young and old worshiping God together was truly touching."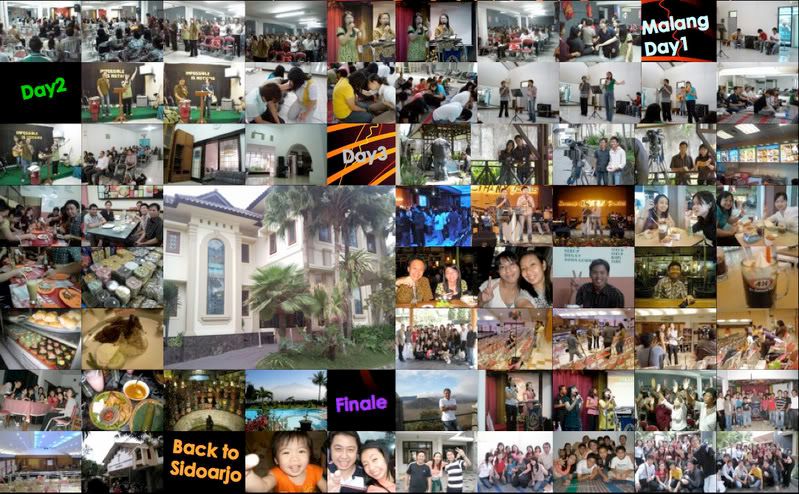 PHOTOS: Janelle Tan
The attendees expressed that they were especially touched by the testimony of an ex-drug peddler who received salvation and had his life changed in a dramatic way.
The team also participated in a variety of activities, which included recording sermon videos to teach Bible lessons to the Indonesians in a practical way.
In Surabaya, the team put up a skit to entertain the children, and assisted at a Sunday School teachers' conference, where a wide range of enrichment classes were being held. What particularly moved the mission team was seeing elderly teachers in their 50s and 60s who had an intense passion for their God and the children they were taking care of.
The trip to Indonesia was a most fulfilling one. The team felt entirely at ease and served to their best abilities despite being in a foreign land. Janelle mused, "No matter where you are, as long as you believe in the same God, it feels like home."
This trip, the 14 missionaries found a home away from home.